Women from different cultural backgrounds have united on a food rescue operation in Toowoomba, helping to tackle food wastage and assist people in need - all while learning valuable skills as part of Work Skills Traineeships.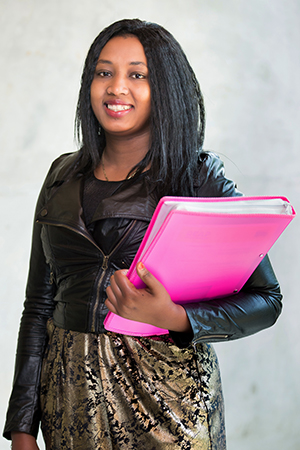 In 2016, 12 trainees launched a new chapter of OzHarvest's REAP Project, thanks to funding from the Queensland Government's Skilling Queenslanders for Work initiative.
The job seekers come from Eritrean, Sudanese, Botswanan, Congolese and Australian backgrounds, and work together to engage businesses and suppliers to donate excess food to local charities that assist people in need.
By the project's end, a total of 24 women will have competed 22 weeks paid work while studying for a Certificate I in Business organised by YWCA Queensland.
Nineteen-year-old Bongerize (Jemmy) Basara had been caring for a family member before she joined the project.
"I am so happy to be part of REAP because there is a big need for this in Toowoomba," Jemmy said.
"Now that we have launched our REAP project I am looking forward to collecting the food and seeing it go to people who really need it."
The Queensland Government funds these Work Skills Traineeships through Skilling Queenslanders for Work because earning a nationally recognised qualification and gaining experience completing real tasks will improve participants' chances of finding work in the future.
Jemmy learnt to use a computer and other office equipment and how to complete a variety of office tasks.
"Learning how to touch type and working in the YWCA Queensland office have been my favourite experiences so far," Jemmy said.
"I have made new friends with the other trainees and I am also very thankful to the staff and my teachers for the opportunity to do this project."
YWCA Queensland Programs Manager Aeron Morgan said the project tackled two major inequalities in employment opportunities: gender and culture.
"Both women and people from culturally and linguistically diverse backgrounds face a range of personal, interpersonal, cultural and structural barriers and challenges in obtaining employment and training," Aeron said.
"This project offers participants that initial opportunity to launch their career that everyone needs. It also provides additional personal and professional development to address potential barriers.
"The participants complete nationally recognised training and develop work skills through meaningful work. This group have really embraced the project and are rapidly acquiring essential and transferrable work skills and qualifications as well as developing confidence.
"The whole community benefits from this program. We are rescuing excess food from local landfill, providing good food to people in need as well as providing much-needed employment and training opportunities to local women."
The project's second intake of 12 trainees will focus on establishing the project as ongoing volunteer operation, supporting local charities to assist people in need into the future.
Last updated 19 March 2018