Mitchell Thomas' love of electronics has helped him to successfully complete his Certificate III in Information, Digital Media and Technology at TAFE Queensland North and secure permanent employment.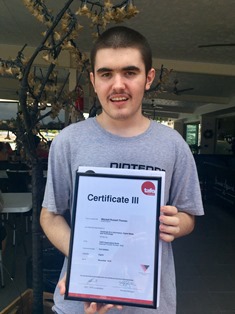 As a shy high school graduate, Mitchell required a little extra support in the classroom and at work placements to help achieve his goals. Funding from Skills Disability Support, an initiative of the Department of Employment, Small Business and Training, allowed TAFE Queensland North to ensure that he developed a strong sense of belonging in the class and among his peers. Mitchell shared support with two other students as well as individualised sessions with disability coach Jo-Anne Lambert.
"When Mitchell first started the course he was quiet and kept to himself a lot but had a great work ethic. Over time, Mitchell's confidence grew to the point of initiating conversations, assisting his fellow students and even mentoring them," Ms Lambert said.

"He was a pleasure to work with and is an inspiration to others."

Disability support officer Tina Cook believes the flexible training support that was provided by the Skills Disability Support program allowed Mitchell to thrive at TAFE.
"The support made it possible for Mitchell to engage and be successful in the classroom, he quickly progressed through his learning journey to a point where he was able to share his abilities with his peers."
His post-TAFE success has been supported by Mylestones Employment who approached Townsville Electronics with Mitchell's resume and worked with the business to gain him a trial. Mylestones Employment job development officer Brad Power supported Mitchell throughout the trial period, and provided his new employer with systems of support that would ensure Mitchell was able to show his capabilities as an employee.
"After the work trial Mitchell was offered the job, and started paid employment the next day. Mitchell has improved in his position and been rewarded with extra hours. He has now been there for six weeks," said Mr Power.
"I have had the pleasure to watch Mitchell grow over the past 18 months. He was doubtful of finishing his Certificate III at the start and ran into some challenges, but we were able to support Mitchell through the challenges and help him to maintain focus and a can-do attitude."
For Mitchell, the role offers a chance to learn more about a subject he loves.
"[At TAFE] I enjoyed the learning and the practical work side of the course," Mitchell said.
"At Townsville Electronics I'll be putting my training to use helping to fix computers and televisions and hopefully learning a lot more about them."
Last updated 17 December 2018