Congratulations on choosing to nominate for the 2020 Queensland Training Awards.
Nominations are now open, and the closing date has been extended.
Planning your nomination - 5 easy steps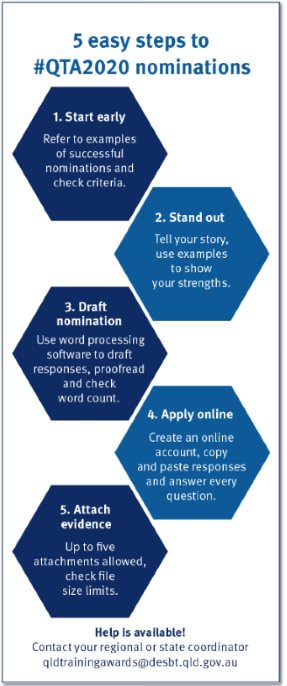 The key to a successful nomination is starting early—don't leave it to the last minute or you may run out of time. Have a look at our 5 easy steps slideshow to help you plan out how to pull together that winning nomination. We also recommend you:
view the examples of successful nominations from some of our past winners and finalists
contact your local regional coordinator for advice and assistance in completing your nomination—they are happy to help answer any questions you may have
view the below resources to help prepare your nomination
initially draft your nomination on a computer—this will give you a chance to review it, do a grammar and spell check, check that each section is under the specified word limit, and easily organise a friend or colleague to review it if you want.
Tips for writing a nomination
Keep your wording clear and simple.
It's okay to use dot points.
Use spell check, correct grammar and stick to the word counts.
Make sure you list the names of your qualification, training provider, employer, etc. correctly.
Make sure that your nomination information is presented in a way that clearly addresses the selection criteria in your award category. Use the nomination questions as headings. You may also choose to include subheadings.
Focus on giving practical examples and evidence to support your statements in your responses. General statements such as 'I am a good team member', 'I have an understanding of industry trends' or 'training is fundamental to the success of our business' must be supported with clear evidence and practical examples.
Judging panels are looking for evidence of how training has contributed to career and study plans, and the development of skills and achievements to date, as well as examples of how training may have helped in achieving other pursuits.
Within your responses, be sure to highlight what you believe makes you or your organisation stand out from others. It may be helpful to think of the nomination as an application for a highly-prized position or business contract.
Make sure relevant information in your Overview section is repeated where needed in your selection criteria responses, as the Overview section is not considered in the assessment process.
Do not exceed the strict word limits per selection criteria or maximum number of attachments.
Before you load your nomination onto the online nomination portal, get a friend, colleague or peer to read what you have prepared—another set of eyes over your nomination could provide you with helpful feedback.
Refer to the examples of successful nominations for your category to see how others have written a successful nomination.
Nomination checklist
Before submitting a nomination, check that you have:
chosen the correct region for your nomination
met all eligibility criteria (detailed on the relevant award category page)
addressed all the selection criteria relating to a specific award category (detailed on the relevant award category page)
completed all sections on the online nomination portal
submitted all attachments correctly.
You also need to ensure that you have read and understood the declaration on the online nomination portal and agreed to the conditions of entry.
By submitting a nomination for the Queensland Training Awards, you agree that:
you understand that the information provided in your nomination might be used for the purposes of the awards program and the promotional activities carried out by the Department of Employment, Small Business and Training
if you are chosen as a finalist, your profile will be used in the final presentation ceremony program, other media activities and in Queensland Training Awards website content
you are prepared to attend the regional, state and national presentation ceremonies, if you are selected as a finalist
all content and claims in your nomination are correct.
Submitting a nomination
Nominations are submitted through the online nomination portal.
Note: The Queensland Training Awards nominations process is only available online. Unfortunately we cannot accept hardcopy applications or attachments.
Before submitting a nomination, all applicants must create a user account using the online nomination portal.
You will receive a confirmation email and must verify your email address before you can begin a nomination. Once you have verified your email you can start your nomination, save it and go back and edit it any time during the nomination period.
Please ensure your computer has JavaScript enabled, so you can take full advantage of the online nomination portal.
Have a question about your nomination?
Check out our frequently asked questions, but if that doesn't answer your query, contact one of our regional coordinators, who are available to support you through the nomination process. They can discuss your nomination idea, what's involved in preparing your nomination and help you with the online nomination process.
If you are applying for a state direct entry category, contact the Queensland Training Awards state team on qldtrainingawards@desbt.qld.gov.au.
Technical issues
If you are experiencing any issues with the online nomination portal, please contact your regional coordinator for assistance.
How are nominations judged?
Read about the nomination judging process.
Last updated 7 January 2020