The training awards experience—from the regional and state training program, on to the nationals—continually inspires participants, motivating them to work hard and commit to their vocational education and training (VET) pathway.
Some of our past winners highlight their experiences below. You can also watch videos where our finalists talk about why nominating it so important—not only for their career or organisation, but also for the industry that they contribute to.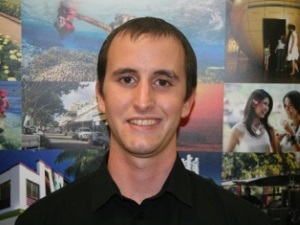 Ben Nedwich
2016 Trainee of the Year - Queensland and Australian winner
"The Queensland Training Awards make you understand what you're capable of and what you've already done. It makes you proud of your life and your achievements, but it also makes you recognise the importance of the people who've helped you get there." — Ben Nedwich.
Through completing his traineeship with Bundaberg Regional Council, Ben Nedwich has reinforced his existing knowledge with an accredited qualification that will enhance his career prospects. In recognition of his commitment to his studies, Ben received Sunrise Rotary's TAFE Queensland East Coast Trainee/Apprentice of the Year and Overall Student of the Year awards in 2015 and a full sponsorship to attend the Rotary Youth Leadership Awards Camp.
---
Ashleigh Taylor
2016 Vocational Student of the Year - Queensland winner and Australian finalist
2014 Trainee of the Year - Queensland winner and Australian finalist
"My experience with the awards has been very rewarding. This has really been a journey of self-discovery for me, and I would encourage as many people as possible to get involved. You meet some amazing people and forge some great connections for life." — Ashleigh Taylor.
Ashleigh Taylor has built a successful career through VET. Following her traineeship in 2014, Ashleigh accepted a full scholarship from Franklyn Scholar to undertake a Certificate IV in Human Resources. Ashleigh was the first recipient of this opportunity and is now HR Administrator at Greyhound Australia. Ashleigh is currently an Australian Traineeship Ambassador. Through this role she encourages others to consider a VET pathway.
---
John Edwards Automotive
2016 Small Employer of the Year - Queensland winner and Australian finalist
"The awards were a great opportunity to measure ourselves against other businesses, to make sure we're doing all we can to improve our training standards and contribute to the industry. Our business is highly technical — we need to keep up with technical changes in the industry. If we don't keep upskilling and training our employees, there's no way we could succeed. We also are passionate about the industry and have seen that mechanics need more opportunities to develop and learn and we want to contribute to the workforce wherever we can and training apprentices is the best way to do that." — John Edwards, owner.
John Edwards Automotive is a family business at Geebung, Brisbane. Training is a high priority for the business and is reflected in their commitment to employ apprentices and train them in the automotive field to ensure there are always fully-qualified technicians within the industry. To better understand the VET system and implement best practice in staff training in the business, owner John Edwards has completed a Certificate IV in Training and Assessment.
---
TAFE Queensland
2016 Large Training Provider of the Year - Queensland winner and Australian finalist
"The training awards are about education and training, but they are also about changing lives. It's about making people realise what is within them and seeing that really come to the fore. It's a privilege to work in this sector and to watch that every day." — Jodi Schmidt, CEO of TAFE Queensland.
TAFE Queensland has a history of serving Queensland's communities for more than 130 years. TAFE Queensland services the length and breadth of the state through six registered training organisations. This unique structure allows TAFE Queensland to share knowledge and resources to deliver high quality training solutions that meet the needs of students and industry.
---
Kieran Chilcott
2015 Aboriginal and Torres Strait Islander Student of the Year - Queensland winner and Australian finalist
"My Queensland Training Awards experience was genuinely life-changing. The atmosphere at the awards was amazing, but it's so much more than events. It's a great honour and tremendous recognition of your studies and abilities. You also meet new and interesting people, and I strongly encourage other graduates to nominate. For me, it has also added validation for my decision to study mental health - which was both a personal and professional journey." — Kieran Chilcott.
Kieran Chilcott (pictured, centre) is the Executive Officer of Gold Coast-based Kalwun Development Corporation, which employed 135 staff in 2015. A lifelong learner, Kieran enrolled in his Certificate IV in Mental Health to better support his employees and to build a greater empathy for those with mental health issues.
---
Hy-Performance Fluid Power
2015 Small Employer of the Year - Queensland and Australian finalist
"The Queensland Training Awards provided a unique opportunity for us to recognise the commitment and contribution of staff, as well as the organisation's investment in our people. Our reputation is forged on excellence and technical expertise, so training is incorporated across all of our operations." — Sandra Gillanders, CEO of Hy-Performance Fluid Power.
Located at Carole Park, Hy-Performance Fluid Power manufactures and supplies products to the global mining industry. Its area of speciality is the manufacture of hydraulic components for blast hole drilling.
---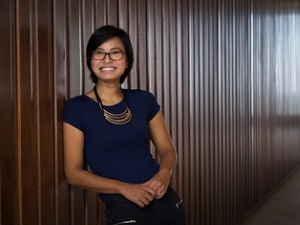 Rachel Dudok
2014 Vocational Student of the Year - Queensland and Australian winner
2012 Apprentice of the Year - Queensland winner and Australian finalist
"The Queensland Training Awards is a wonderful avenue to celebrate your achievements, but also your training pathway, RTO, employer and industry. It is also a great opportunity to network and acknowledge what others are doing in the vocational education sector." — Rachel Dudok.
With an aptitude for subjects such as mathematics and technology, Rachel decided to pursue an engineering degree. During one of her work placements, she realised that she preferred the hands-on experience and decided to undertake an apprenticeship through Aviation Australia instead. Rachel has since completed a Diploma in Aeroskills (Avionics) and is now a Licenced Aircraft Maintenance Engineer. In her new role as Sales and Business Development Manager - International at Aviation Australia, Rachel is focusing on promoting excellence in vocational aviation training on a global scale.
---
Oothung (Sisters) in Mining
2014 Industry Collaboration Award - Queensland and Australian winner
"This award gives us recognition and affirms the success of the tailored training program. We would like to thank and acknowledge all the dedicated staff involved, without their hard work and diligence, this program wouldn't be the success it is." — Greg Moult, Employment Plus Managing Director.
The Oothung (Sisters) in Mining Program is a collaboration of Thiess, Wesfarmers Curragh and The Salvation Army Employment Plus and was formed to assist local unemployed Indigenous women enter Queensland's mining industry. The tailored pre-employment program prepares graduates with a combination of learning, including life skills, classroom-based training and on-the-job experience in a state of the art Haul Truck Simulator.
---
Last updated 13 September 2017